David Davis
Full Stack Developer
Tax Exemption Certificate Management Plugin for Optimizely B2B
XCentium's Latest Innovation
We are happy to introduce XCentium's Tax Exemption Certificate Manager extension to Optimizely's B2B Commerce Cloud platform.
Tax Exemption Certificate Manager (TECM) is a plug-in that enables your customers to upload and view their Tax Exemption forms directly through their account on your website: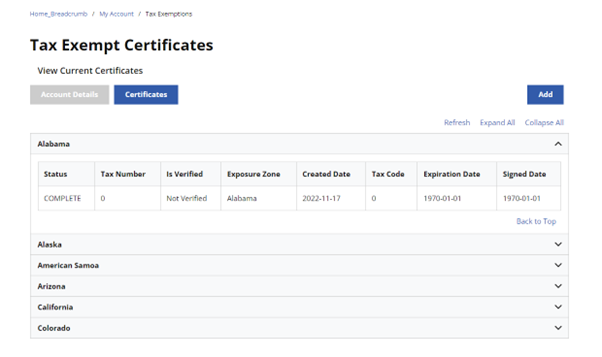 A B2B Commerce website user can now login, enter their tax exemption customer information, upload tax exemption certificates, and view all of their existing certificates facilitated through an external tax exemption certificate manager: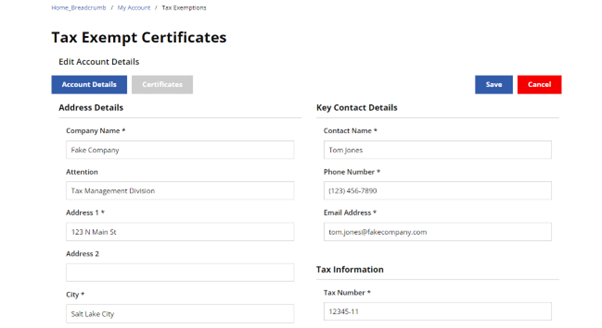 The plugin currently supports Avalara's CertCapture and AvaTax certificate management APIs. ONESOURCE and TaxExempt support are in development and are expected to be completed in Q1 of 2023.  Certificates uploaded on the website are sent to the correlating API and housed there.  A corresponding call is made to get all certificates for a user to be displayed on the website. When a user uploads a certificate, an internal email is sent to a business user to alert them a tax exemption certificate is ready for review on the backend platform.
To configure the TECM, all settings are entered in the Admin console: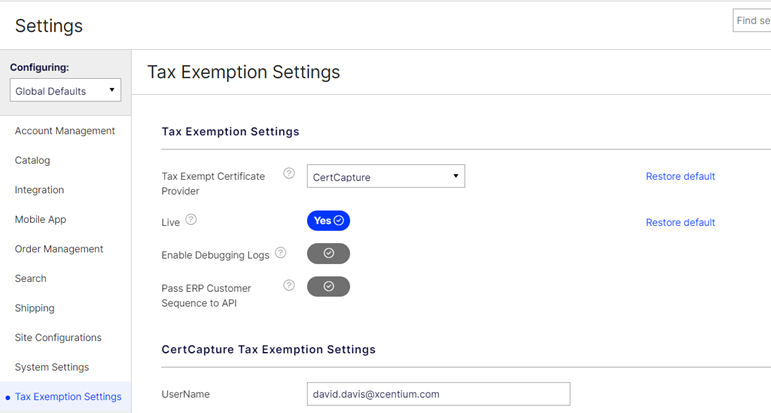 The TECM uses similar functionality to B2B Commerce's Payment Gateway choices, allowing users to select one certificate manager per website in the console.  Once a provider is selected, credentials are entered to connect to the API.
The front-end pages and widgets for the TECM were developed to work with both Spire and Classic CMS options and have followed the same guidelines for styling as the responsive theme so any custom CSS will apply seamlessly across their components.
On the Spire front-end, CMS users can configure the certificate manager view to add or remove columns of the certificates grid: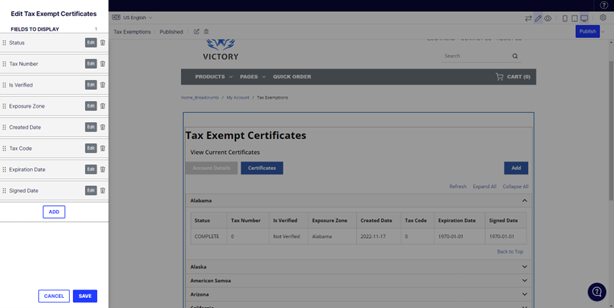 The plugin is also configured to work with Classic CMS versions: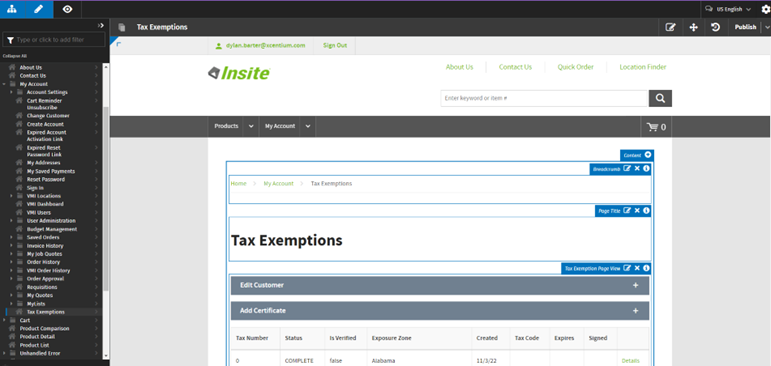 With XCentium's Tax Exemption Certificate Manager, B2B Commerce users are no longer forced to use an external tool to manage their tax exemption certificates, allowing them to have more functionality and self-service directly within the platform itself.   
Call us or email me today (david.davis@xcentium.com) to add the Tax Exemption Certificate Manager to your B2B Commerce website.