Office365 Considerations
What is Office 365?
Office 365 is a cloud-based unified collaboration and communication platform from Microsoft. Office 365 consists of Office Suite (Word, Excel, PowerPoint, Outlook, OneNote, Access and Publisher), SharePoint Online (for document management, search, content management etc.), Exchange online (Email capabilities on the cloud) and Lync Online (Instant Messaging platform on the cloud) online service offerings vary depending on the plan.![](https://mms-delivery.sitecorecloud.io/api/media/v2/delivery/03da597b-4392-4f8e-91cf-08dac63d0cbe/ff3c74946acd4809964f2069fd86f21e "More...")![](https://mms-delivery.sitecorecloud.io/api/media/v2/delivery/03da597b-4392-4f8e-91cf-08dac63d0cbe/ff3c74946acd4809964f2069fd86f21e "More...")
How is Office 365 different from SharePoint On premise offering?
Office 365 alleviates some of the common issues related to on premise implementations like the need for Platform and hardware upgrades, Security and High availability planning, maintaining Server Administration staff etc. Some features like Business Connectivity Services and Farm-level Solutions are available only on premise offerings of SharePoint.
What are some of the highlights of available features in Office 365?
• Access to Microsoft office suite which includes desk top versions of Word, Excel, PowerPoint, Outlook, OneNote, Access and Publisher (Depends on the plan chosen).
• Exchange on cloud enables access to email, share calendars and contacts.
• Lync on the cloud enables Instant Messaging, PC-to-PC calling with Audio and Video support.
• Also ability to join meetings with Outlook and Lync mobile app.
• Ability to build websites. Hosting is provided at no cost.
• Office mobile app support for all the 3 major mobile platform (iOS, Android and Windows).
• Solid security and compliance features which includes encryption of data at rest and via network, Using 128-bit SSL/TLS browser encryption so that your communications to Office 365 are secure. Up to date on Anti-virus software and security patches.
• Office 365 is also kept up to date with the latest regulations and compliance standards. It has been verified to meet the requirements for ISO 27001, HIPPA (Health Insurance Portability and Accountability Act), FERPA (Family Educational Rights and Privacy Act), and FISMA (Federal Information Security Management Act).
• Single Sign On support using Active Directory Federation Services (ADFS) to synchronize on premise domain users with office 365.
• Business Intelligence suite of Office 365 offers Self-Serve BI which include Power Query for easy discovery and data connection, Power Pivot. For Data modeling directly from Excel, Power View for creating analytical Views and interactive data visualizations and Power Map to explore and Navigate geospatial data.
• Apps for Office and SharePoint lets third-party and customer-developed apps work with Office and SharePoint to bring web services right into your documents and sites.
• 99.9% uptime guaranteed by SLA from Microsoft.
• Since everything is hosted on the cloud no Support or Maintenance personnel needed for any of the applications.
Exchange online
Microsoft Exchange is a mainstay application platform in enterprise organizations for email management. In Office 365, it is very similar, except for the fact that you no longer need to maintain on premise Exchange servers, and have the best security available protecting your users and their email, virus and malware protection.
Access to your Exchange Online email is also a critical component, as it is a main form of communication for everyone nowadays, Exchange Online offers not only the Outlook client on your desktop or tablet device, but also a web based version of the product, as well as Exchange Active Sync, so no matter the device you are using, be it a desktop or laptop computer, tablet, or smartphone, you are always connected to your email.
Exchange Online Protection (Formerly Forefront Online Protection for Exchange) is subscription based email filtering service that is hosted on the cloud and can be added as complementary service.
SharePoint Online
Not only do you have the benefit of having the latest and greatest SharePoint functionality by utilizing SharePoint Online, you can also support a large organization without having to spend capital on storage and hardware solutions to expand with you as your organization grows and changes.
Each site collection in SharePoint Online can support up to 100GB of content, and up to 3000 site collections.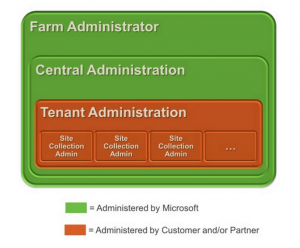 Lync Online
Get real-time presence information including availability status, location and enhanced instant messaging (IM) to connect efficiently and effectively, make voice calls through your computer to other Lync or Skype users in your organization or in other organizations that use Lync or Skype.
You can enhance online presentations with screen-sharing and virtual whiteboards.
You can participate in your Lync conference calls even if they are not Office 365 or Lync Online customers.
What are the different Plans available for Office 365 offering?
*Office 365 Plans for Businesses are based on Per User on Month or Annual Contract.
Office 365 Small Business: Offers basic version of O365 like hosted Exchange, SharePoint, and Lync services.
Office 365 Small Business Premium: Aimed at businesses with 1-10 employees. Offers access to the Office applications on up to five devices per user, plus hosted Exchange (with 50 GB mailbox), SharePoint (with 10 GB of storage, plus an additional 500 MB per user), and Lync services.
Office 365 ProPlus: Offers access to the Office 2013 Professional Plus applications for up to 25 users on up to five devices per user.
Office 365 Midsize Business: Aimed at businesses with 10-250 employees. Offers access to the Office 2013 applications from ProPlus, plus hosted Exchange, SharePoint, and Lync services.
Office 365 Enterprise: Intended for use in large enterprise environments. Offers access to all Office applications, hosted Exchange, SharePoint, and Lync services, plus enterprise-specific legal compliance features and support.
What are the different factors for getting started with Office 365?
Assessment of Existing SharePoint Environment
Before deciding on a migration strategy it is vital that you perform an analysis of your current environment then carefully plan the different aspects of SharePoint, Exchange and Lync.
SharePoint Content Migration
If you plan to migrate SharePoint content from an on-premises or hosted service to SharePoint Online, your organization will either use a manual approach or to use a third-party SharePoint migration tool.
One way to manually move content to SharePoint Online is by connecting the SharePoint Library to SharePoint Workspace. You can then upload content to SharePoint Workspace and it will automatically synchronize these files to SharePoint Online. Another manual approach is to use the capability of SharePoint to upload multiple files. This will allow you to upload batches of files at once.
Note:
If you use the manual migration methods described above, the uploaded files will appear as being created by the user who uploaded them. Also the timestamp of the file will be the upload time and not the original creation time.
Before choosing the migration tool to migrate your SharePoint content, be sure to verify that the tool meets your migration requirements and that it supports all of the SharePoint artifacts you want to migrate. Refer to the third-party tool's documentation and evaluate what preparation steps your organization will need to implement.
Exchange Server Migration to Exchange Online
Several different options are available depending on the version of Exchange/Email System, the size, options etc.
Cutover Exchange Migration: For small organizations, quick cutover from existing on premise exchange limited to a maximum of 2000 mailboxes.
Staged Exchange Migration: For a short period of co-existence from on premise Exchange and Exchange online. Identities are automatically provisioned by Azure Active Directory Sync tool.
Hybrid Deployment migration: Needs a hybrid server to your on-premises Exchange environment.
Let's on-premises users see calendar of Exchange Online users.