Personalization
Customer Data Platform
Surya Challa
Vice President, Data and Cloud Services
Is Hyper Personalization worth it?
Introduction
Implementing "Personalization" can be hard, time-consuming, and without the right tools and expertise, has a higher chance of failure. So, should organizations be looking at personalization? McKinsey reports that fast growing companies drive 40% more of their revenue from personalization than their slower growing counterparts. [1] Any way you look at it, that is a big difference. The increase is not about adding new products, new categories, new packaging etc. but by increase in conversions, retentions achieved via increased customer satisfaction. Personalization is essentially a catalyst that when implemented right accelerates revenue.
How Hyper-Personalization Can Work
Over 70% of customers expect companies to understand their unique needs and expectations [1] [2]. Customers expect personalization to be a minimum requirement for a brand to earn loyalty. To put it another way, lack of personalization (or) poor personalization costs businesses.
How are organizations using personalization to deliver such a big difference? Below is a quick sample. In a future article we will go over more concrete examples:
1.      Simplified navigation for individual users based on their interests or behaviors
2.      Relevant products/services recommendations based on history or interests
3.      Targeted promotions
4.      Personalized communications
5.      Triggers based on user behavior
6.      Simplified onboarding for first-time users via personalized engagement
and more.
The result is reduced friction for customers, increased satisfaction, and in turn higher conversions and retention.
Challenges of Implementation
Bedrock for effective personalization is having the right data. Data about people's interactions with the brand, across channels, and across devices. This is easier said than done. The picture below illustrates people's interactions with a brand across numerous systems and applications spread over time, where relevant events happen in their own siloes having fragmented data.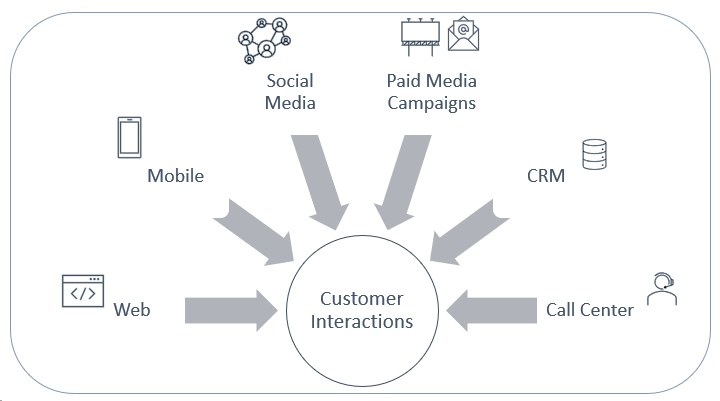 At times, personalization needs to be achieved in real-time while the customer interaction is in progress. At other times, personalization needs to be offline such as with email campaigns.
These diverse sources and needs make implementation of hyper personalization challenging, leading to poor implementations. Any system you leverage to organize data for personalization at scale needs to support capturing interactions from multiple channels, build a unified profile, segment the profiles at scale, and have the decisioning capabilities for consumption in real-time and in batch systems.
In the next article, we will look at Sitecore CDP (Customer Data Platform), a system that tackles the above challenges and enables organizations to implement personalization at scale in a fraction of the time.
References:
[1] The Next in Personalization 2021