Introduction to Engagement Plans
An engagement plan is a predefined plan that lets you control how your website interacts with some contacts.
Use engagement plans to nurture relationships with your contacts by adapting communication to use the content, channels, and media that are appropriate for each individual interaction.
Engagement Plans Consists of:
States - the status of a website contact
Conditions – logic-based statements that you set which determine whether contacts in a specific state fulfill certain criteria.
Rules - criteria that you define which determine whether a contact fulfills a condition.
Triggers - events that determine when Sitecore should evaluate the conditions and rules associated with a state.
Actions - actions that should be taken when contacts meet or fail to meet the rules specified in a condition.
Creating Engagement Plan
**Step 1:  Create
**Navigate to the Marketing Control Panel and from the content tree, select Engagement plans.  From here you can either:
Right click and insert Engagement Plan / Folder
Insert from template
Click on Engagement icon
Create folder (You can create folders to help organize if you have or plan to create a lot of plans.)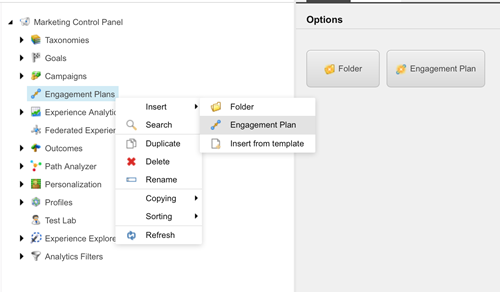 **Step 2: Name your plan
**Give your Engagement Plan a name and click ok.  It is important to name and organize your engagement plans so in the long run will be easier to manage.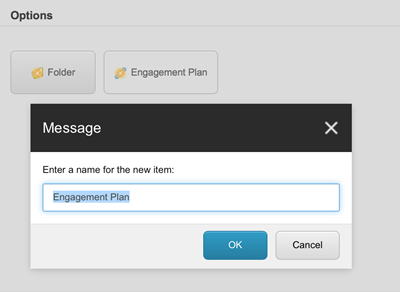 **Step 3: Design your plan.
**Using the Design tool, you can now create and design your engagement plans.  Create your different states, conditions, actions, triggers that will determine the next state and action for the contact.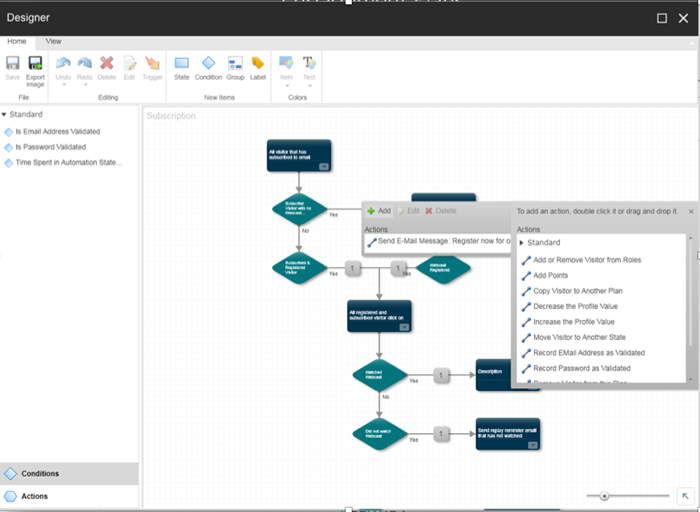 **Step 4: Manage Your Plans
**For each of your engagement plans, you can quickly see progress and status of each through:
Monitor Engagement plans
Allows you to quickly get an overview
View all status and conditions
View number of visits in each state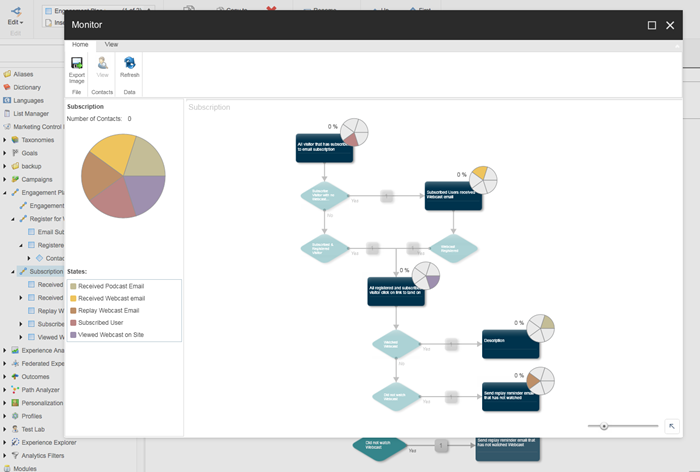 Supervise Engagement plans
View how many users are currently in the plan
View all status and conditions
View number of visits in each state
Manually force triggers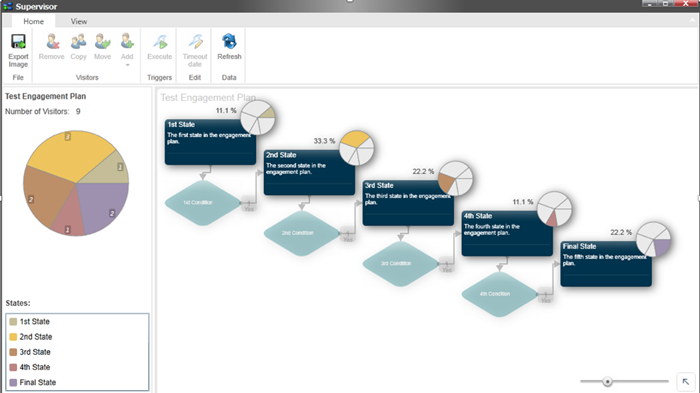 Note: EXM will need to be setup for emails to be sent in the engagement plans.