Innovative Marketing and Technology Solution Sets New Standard in Movie Industry
Press Release: Los Angeles, CA, September 25 2017 — XCentium, an award winning and digital firm, announced the launch of new Cinépolis USA website that blends the latest in marketing and technology to create a complete end to end digital business solution, focused on user experience and setting a new standard in the movie industry.
Cinépolis USA is a leading world-class cinema exhibitor that offers guests enhanced movie-going experiences through its "Cinépolis Luxury Cinemas" and "Cinépolis" theater concepts, and newly debuted 4DX and kid-approved Cinépolis Junior auditoriums. The Dallas-based theater chain opened its first theater in Del Mar, CA in July 2011 and has some of the top performing theaters in the country, currently operating a total of 17 theaters with a presence in Southern California, Florida, New York, New Jersey, Connecticut and Texas. Additional theaters across the U.S. are planned to open in the next few years. Its México-based parent company, Cinépolis, is the fourth largest movie theater exhibitor in the world.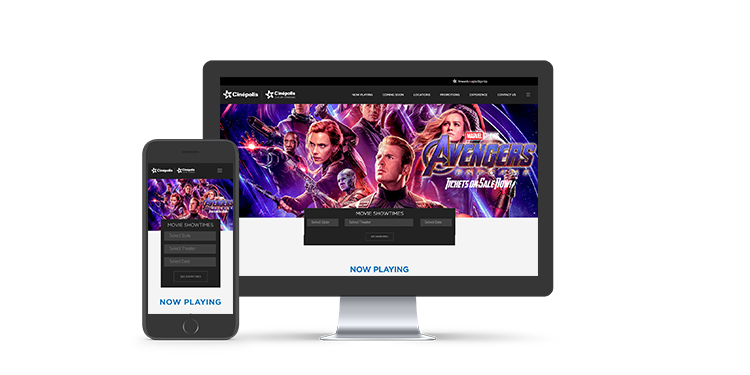 With customers of every demographic, Cinépolis USA envisioned creating a digital experience that seamlessly represents the innovative moviegoing experience for which they are so known while offering ease of use for both customers and employees. Cinépolis USA worked with XCentium's UX, CMS and Microsoft Azure teams to design, implement and deploy the solution.
With 60 percent of customers using mobile devices, Cinépolis USA's new solution is responsive, enabling customers to engage with the new site and purchase tickets, utilizing any device on any platform. The marketing team is now able to completely visualize and track each customers engagement with their brand through personalization and analytics. Employees easily manage the content of the website, creating updates and adding promotions for every theater through the CMS. Integrating the CMS with Vista Entertainment Solutions enabled the Cinépolis USA business office to control film data, ticket types, promotions, concessions, cash management, pricing, media, loyalty programs and analytics in real time, from one location and seamlessly deliver updates to multiple cinemas. Additionally, by deploying the new website on Microsoft Azure Cloud Web Services, Cinépolis USA now has instant scalability to easily handle website traffic spikes on the weekend and holidays. Lastly, Cinépolis USA utilizes XCentium's Managed Services ensuring a geo-redundant, no fail solution. 
"As our company continues to grow and evolve, a primary focal point remains to ensure our guests' moviegoing experience is as special and seamless as possible across all touchpoints," said Cinépolis USA Senior Vice President of Strategy Ike Nzotta.  "In working with XCentium we are delighted to debut a platform - backed by cutting edge technologies and user-focused content management that spans a multitude of interfaces - that on a deeper level allows us to connect with and engage our new and returning guests, creating an elevated cinema journey that begins the moment a guest visits our website."
"Creating a martech solution for Cinépolis USA was the perfect answer to align their digital strategy and business goals," shares Thomas Wagner, Director at XCentium.  "The XCentium team is excited to help our client realize their goals of creating a device independent, fast and responsive movie website that integrates with its enterprise backend with the ability to scale on demand while providing a superior user experience."
To view the Cinépolis USA website, please visit: https://cinepolisusa.com/.
About XCentium
XCentium is an award-winning, full-service digital consultancy. We focus on User Experience, Content Management, Commerce, CRM, and Cloud.  Our goal is to help our clients align their digital strategy with business objectives, leverage technology excellence to deliver superior results, engage customers on the web and mobile and run their business in the cloud. For more information, please visit XCentium.com. For inquiries, please contact info@xcentium.com.
Cinépolis USA, Microsoft, and XCentium are trademarks of their respective companies.