Amanullah Akhundzada
Web Developer
Competency 1 Asset Management in the Content Hub DAM
Competency 1: Asset Management
In today's digital landscape, managing and organizing vast amounts of content is crucial for businesses striving to deliver personalized experiences to their customers. Sitecore Content Hub, a comprehensive content management platform, offers robust capabilities to streamline content operations. The Digital Asset Management (DAM) solution plays a crucial role in the administration of Sitecore Content Hub. Effectively managing assets throughout their lifecycle is essential to have a seamless content creation and distribution process. In this blog post, we will explore Competency 1 of the Sitecore Content Hub Administrator Certification Exam, which focuses on asset management within the Content Hub DAM. We will explore key concepts such as Content Hub domain modeling, creating and reviewing asset entities, publishing and managing approved assets, creating collections, understanding asset lifecycle status, archiving assets, and configuring search functionalities.
Content Hub Domain Modeling and the M.Asset Domain
In Sitecore Content Hub, domain modeling is used to define and structure different entities. The M.Asset domain represents the non-taxonomy entity definition for assets within Content Hub. Unlike taxonomy entities, assets are not hierarchical on their own. However, assets can be categorized using the M.AssetType taxonomy, which is structured hierarchically. This taxonomy facilitates faceted search, security policies, and access control. By utilizing the M.AssetType taxonomy, administrators can ensure that users in specific user groups have access to assets of a particular type.
Sitecore Content Hub's innovative domain model has the following components:
An asset is treated as an entity with attributes and relationships to other entities.
An asset can be linked to a rights profile for DRM enforcement.
Since Content Hub is one unified platform, an asset in DAM can also be linked to a product family when used in the PIM/PCM solution.
An asset can be linked to a project when MRM is used.
An asset can be linked to a piece of content in the context of CMP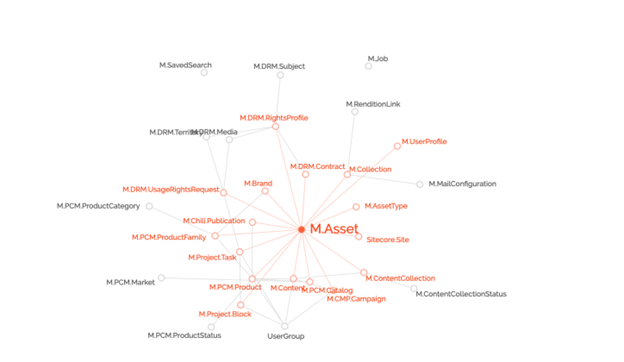 The Content Hub domain model allows you to simultaneously promote your products, product families, and brand information. When data updates are made, the related assets also inherit the update.

Creating, Reviewing, and Sharing Asset Entities in the DAM
As a Content Hub Administrator, your responsibilities include creating, reviewing, and sharing asset entities within the DAM. Assets can be created by uploading files or importing them from external sources. Once created, assets undergo a review process to assess quality, metadata accuracy, and compliance with brand guidelines. Collaboration with stakeholders is essential to gather feedback and make any necessary modifications. After the review, approved assets can be shared with authorized users or published for public consumption.
Publishing and Managing Approved Asset Entities in the DAM
Publishing approved assets ensures their availability across various channels and platforms. Content Hub provides comprehensive capabilities to manage published assets, including version control, asset linking, and usage analytics. Administrators can track asset performance and usage, enabling informed decisions about asset relevance and potential updates.
Creating Collections of Asset Entities in the DAM
Collections allow administrators to group related assets together which facilitates easy organization and retrieval of specific asset sets. By creating collections based on project requirements, campaign themes, or asset types, administrators can streamline asset management and collaboration. Collections also provide a shared space for team members to access and collaborate on assets, supporting efficient workflows.
Asset Lifecycle Status and Modification Methods
Every asset in the DAM goes through various stages in its lifecycle, such as creation, revision, approval, and archiving. Understanding the different lifecycle statuses of assets and available modification methods is crucial for effective asset management. Content Hub provides predefined statuses, and administrators can modify them based on organizational requirements. Modification methods include manual status changes, automation rules, and workflow-triggered status changes.
Archiving Assets and Moving through the Entire Lifecycle
Archiving assets involves moving them to a separate storage area while retaining metadata and historical information. This process helps maintain a clean and organized DAM by removing assets that are no longer actively used but may still hold value for future reference. Administrators can define archiving rules based on asset age, usage, or business relevance. Properly managing assets throughout their lifecycle optimizes resource utilization and ensures an efficient and clutter-free DAM.
Configuring Search through Assets:
Search functionality is crucial to quickly locate assets in the DAM. Content Hub offers various options for configuring asset search, including facets, queries, and free search. Facets enable users to filter assets based on specific metadata properties, narrowing down search results. Queries allow administrators to build complex search queries using logical operators and specific criteria. Free search enables text-based searches across multiple asset attributes simultaneously. Using search options effectively improves asset discoverability and enhances overall DAM usability.
DAM Use Cases
Collection creation including ease of ingest/asset uploading
Workflow that provides a simple review, annotation, and approval function
Search capabilities that filter by usage, visibility, geography, localization, asset type, media type, etc.
Integration ability to sync information from other systems, such as Product Content Management and Recipe Management
Ability to integrate and sync assets and content from the Packaging Management as it relates to marketing assets, eCommerce, and campaigns at a later phase
Full implementation of auditing and reporting
Ability to transfer and enhance existing metadata structures through an easy-to-use and comprehensive import/migration methodology
1. Centralized Asset Repository
Sitecore Content Hub provides a centralized repository for storing, organizing, and managing all digital assets in one place. Whether it's images, videos, documents, or any other media files, you can easily upload, categorize, and tag assets for quick and efficient retrieval. The intuitive user interface makes navigation through the asset library seamless, enabling you to locate the right files when you need them.
2. Metadata Management
Efficient digital asset management relies on accurate metadata. Sitecore Content Hub allows you to define custom metadata fields specific to your organization's needs. These metadata fields provide descriptive information for your assets, such as title, description, tags, copyright information, and more. Robust metadata management capabilities ensure that assets are properly categorized, making it easier to search, filter, and retrieve them later.
3. Advanced Search and Filtering
Finding the right asset at the right time is crucial for content creators. Content Hub offers powerful search and filtering options to help you quickly locate assets based on various criteria. You can search by asset type, file name, metadata, tags, and other parameters, saving valuable time and effort. Custom filters and saved searches further enhance efficiency, ensuring assets are readily accessible when needed.
4. Version Control and Collaboration
Managing multiple versions of digital assets can be challenging without proper version control. Sitecore Content Hub enables you to track changes, compare versions, and revert to previous iterations if necessary. This feature is particularly valuable when collaborating with team members or external stakeholders. The platform provides a seamless collaboration environment, allowing users to share assets, leave comments, and track feedback, facilitating smoother workflows and enhancing team productivity.
5. Automated Workflows
Content Hub allows organizations to automate repetitive tasks and streamline asset management workflows. Configurable workflows enable the definition of approval processes, permissions, and rules for asset usage. Automation ensures consistency, reduces manual errors, and expedites asset publishing, improving operational efficiency and accelerating time-to-market for content campaigns.
6. Integration with Sitecore Experience Platform
For businesses leveraging the Sitecore Experience Platform for their digital experience management, Content Hub seamlessly integrates with the platform, creating a unified ecosystem. Content creators can access and utilize assets directly from the Experience Platform, enhancing content personalization and delivering cohesive brand experiences across channels.
Conclusion
Competency 1 in Sitecore Content Hub administration focuses on managing assets in the DAM. By understanding how Content Hub organizes, creates, reviews, publishes, manages, and archives assets, administrators can effectively handle assets throughout their lifecycle.
This competency in asset management enables smooth content creation, distribution, and collaboration, ensuring efficient use of digital assets and improving overall content management in the Content Hub DAM. Read more about Competency 2: Content Hub DAM configuration here.