Digital
Platforms
Customer Data Platform
Melissa Zaidan
Digital Marketer
CDP vs DMP vs CRM
What are the similarities and differences between these business tools?
Individually or combined, a CDP, DMP, and CRM can play an essential part in the customer life cycle and improve the customer experience. All three are marketing technology platforms explicitly designed to store, manage, and leverage information related to the customer. However, that's where the similarities end. Aside from functional characteristics, the most significant difference lies in purpose. A CDP relies on 1st party data to produce a single view of the customer, while a DMP relies on 3rd party data for advertising purposes. At the same time, a CRM focuses on the organization-customer relationship and managing customer interactions. Let's take a deeper look at each.
What is a CDP? 
Gartner defines a CDP as "a marketing system that unifies a company's customer data from marketing and other channels to enable customer modeling and optimize the timing and targeting of messages and offers."
When brands struggle to reach out to customers at the right time and on the right channel, it's usually because of siloed or unused data. A CDP addresses these issues by utilizing data to make every customer interaction smarter, optimized, and more personalized.
With a CDP, marketers can easily segment customers based on specific behaviors and characteristics by collecting, unifying, and enriching customer data stored in other tools. CDP data is stored in a single, scalable place, making it fast and flexible to read through and analyze all data at once across the organization. A properly configured CDP can activate your data with cutting-edge, AI-driven testing and personalization strategies. By working with first-party data organizations get a holistic understanding of their customers while incorporating second- and third- party data to target prospective customers more effectively.
To know more about generating revenue with a CDP, click here.
What is a DMP? 
Gartner defines a DMP, or data management platform, as software that controls data flow in and out of an organization to support data-driven ad strategies. The fundamental purpose of a DMP is to help marketers understand their audience to better target ads and improve media buying efficiency.
Essentially, a DMP consumes 3rd-party web analytics tracking details like page visits and even shopping cart content so that client organizations can serve highly targeted advertisements. As a user, if you've ever visited a website and then seen ads for the exact products you were looking for, you've interacted with a DMP.
DMPs work almost exclusively with anonymous data such as cookies, devices, and IP addresses to create audiences without violating personal privacy. Data management platforms have shorter data retention periods, and multiple client organizations can leverage the same audience data.
What is a CRM? 
Undoubtedly the most mature of these solutions, a CRM, or customer relationship management system, provides functionality around four phases of the customer lifecycle: marketing, sales, digital commerce, and customer service. A CRM collects data through direct interactions via phone, email, social media, chat, or website and integration with other systems.
Once collected, this information helps analyze sales pipelines, conduct forecasts, and foster positive customer relationships.
Originally designed to be broad, general, and quickly leveraged by different business models, CRM platforms are reasonably easy to customize. As a result, an organization could use a CRM to support and enable more specific programs such as personalization, loyalty, and audience targeting. Whether or not to do so depends on many factors and backs into the broader build vs. buy digital strategy conversation.
How it all comes together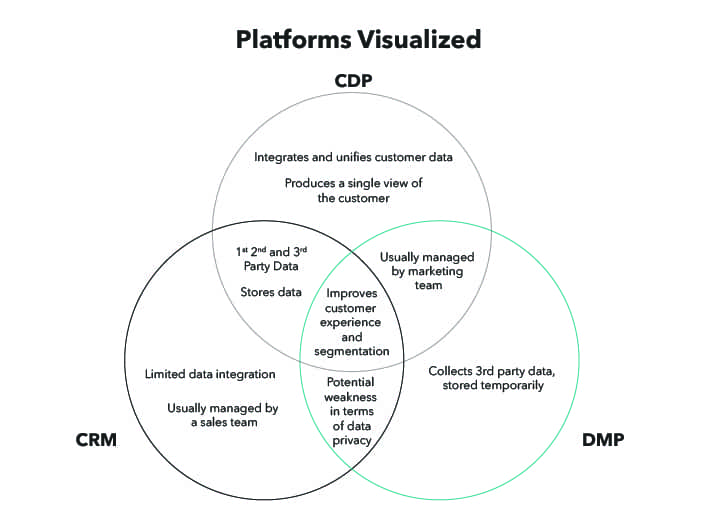 Summary 
Marketers strive to deliver the right message at the right time and on the right channel, but this isn't easy without high-resolution, integrated data. By connecting CRM, DMP, and CDP, organizations can improve the overall effectiveness of these individual Martech platforms and finally have a functional, 360-degree view of the customer.   
After DMPs drive in new prospects and leads, CRMs help keep track of the ongoing relationship. At the same time, CDPs bring all this data together to help brands connect and engage with new and existing customers more effectively.  
If you have any questions about selecting or implementing a CDP, DMP, or CRM, please don't hesitate to reach out for a no-cost, no-commitment consultation, and a member of our team will contact you shortly.